Day 4, Post CO2 Fractional Laser Resurfacing
Nothing is better than laying down to sleep. Finally a proper lay in. At this point, you are still needing a lot of aquaphor and hydro-cortisone on your skin. During the night your skin will dry out and you will need to reapply the ointments. Welcome to day 4, post CO2 Fractional Laser Resurfacing.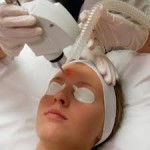 I would suggest taking an old t-shirt and covering your pillows during this process, then you can just throw them out. The softness of the t-shirt is important. You certainly won't enjoy the feeling of a bath towel or anything rough on your skin Your skin peeling is extreme and it feels most comfortable to take a cool/tepid shower with Sanitas Sensitive Skin Cleanser and lightly massage the skin in the shower. This aids in relieving the itchy and shedding. Gentle! Do not scratch or rub hard or use any exfoliating products.
I no longer need any antibiotic creams but if you have any oozing or crusting I would still recommend it. I am using the hydro-cortisone cream and the aquaphor only. The neck and chest are the most uncomfortable and it still doesn't feel good to have anything lie on the skin or rub up against it. I will be going back to work part time today and the choice of clothing is concerning.
Sunscreen and a hat are imperative. You must not have any sun exposure. Apply sunscreen as the last layer. Remember, you may not sit by a sunny window or receive any incidental sun exposure.
I will be going back to the clinic today to receive a Red LED light treatment. This treatment easily penetrates the skin, boosts circulation and brings more blood and nutrients to the area. It stimulates vital collagen and elastin production. Collagen helps plump the skin, while elastin firms the skin. The red light is energizing and aids to repair damaged cells. I consider this a must post procedure. I also have an at home hand held red light device that I have been using. Check in later today and I will post pictures of this procedure.
Thanks for all your support and questions. It is an interesting process that I have been excited to share with you. Please let me know if there are any questions you have so we can discuss them.